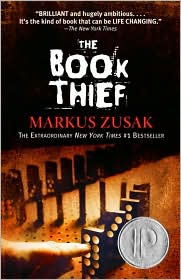 The Book Thief
Markus
Zusak
Copyright 2005
550 pages
Synopsis
It's just a small story really, about among other things: a girl, some words, an accordionist, some fanatical Germans, a Jewish fist-fighter, and quite a lot of thievery. . . .
Set during World War II in Germany, Markus
Zusak
's groundbreaking new novel is the story of
Liesel
Meminger
, a foster girl living outside of Munich.
Liesel
scratches out a meager existence for herself by stealing when she encounters something she can't resist–books. With the help of her accordion-playing foster father, she learns to read and shares her stolen books with her neighbors during bombing raids as well as with the Jewish man hidden in her basement before he is marched to Dachau.
This is an unforgettable story about the ability of books to feed the soul.
My Thoughts
To begin with this is classed as a Young Adult novel. I
don't
usually enjoy Young Adult reads and after reading this I would have to disagree about its classification (only my opinion) and suggest that I would not recommend it for a twelve year old even though it states for readers from 12 years old and up.
Nonetheless, this was a totally awesome read and will
definitley
be a hard book to top. Even with the year being new and many hours left to lose myself in books yet discovered, I can't help but think that I have already read one of my top reads for 2009 if not the best.
The narrator of the story is "Death" (yet not a scary or cruel character as we often think death is) makes an early appearance when the book thief's little brother dies on a train that a bunch of people marked as communists have been herded onto.
Liesel
(the book
thief
) commits her first theft at her brothers
grave site
. It does not matter that she can not read or that she has no idea why she does this act. She conceals her treasure even as she is dropped at her new
fostor
home on
Himmel
St.
Liesel
has an immediate connection with her
fostor
dad, a kind man that plays the
accordian
, paints houses and teaches
Liesel
to read but it much slower to warm up to her
fostor
mom who reacts with harsh words and more restrained emotions. It was nice to see a character placed in a kind
fostor
home rather then the usual horrid conditions we read about.
Through the years "Death" collects many souls and gives us his point of view on society and what people will do to help others and what some will directly or indirectly do against their fellow man. Death does not revel in his position, but carries out his duties often with a heavy heart.
I felt this was not so much a story of the
Holocaust
but a tale about society and the power and use /misuse of words.
Leisel
uses her knowledge of language
to improve
herself and shares her gift of reading with others. In contrast Hitler uses his power of speech to to brain wash much of a nation.
The human spirit is strong throughout this story. "Death" is not to be feared so much as the interaction between human kind.
Though not necessarily a happy read, I found myself laughing and aching with the characters as I grew to love them. What more could an author want but to know that he moved the emotions of his readers - truly a must read.
PS - I
don't
feel the synopsis at the beginning of the post showed the depth of this novel.
4.5 stars out of 5.